Smutná zpráva z domova (Anonym)
Někdy nám přijdou z domovů smutné zprávy. Stejně jako dnes.
Moc ani nevím, co k tomu napsat. Mezi zvířaty si nevybíráme. Bereme ty, které nám přijdou pod ruku. Stejně jako tahle krůta, která ke mě udělala první krok a tak jsem ji vzal do náruče a šel.
Někdy vezmeme zvířata, která žijí dlouhý a spokojený život. Někdy taková, která mají třeba jen pár dní.
Jen pár dní, ve kterých poznají i laskavou lidskou dlaň místo té, která je živí jen jako žrádlo a obchodní artikl.
(MK)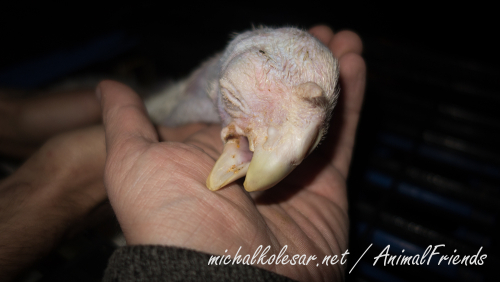 Umřela Lucinka.
Dostala se k nám s velkým handicapem v podobě zdeformovaného zobáku. Byla ale hodně šikovná a každým dnem se dokázala najíst víc, než den předešlý. Přesto to nestačilo a musela se dokrmovat, aby se dala co nejdříve dohromady a měla hodně síly.
Vše zatím vypadalo celkem dobře. Byla hodně kontaktní a užívala si každé pohlazení.
Co k tomu vlastně psát?? Sami vidíte vidíte, s čím se musela potýkat.
Je nám to moc líto a nezapomeneme na ni.
Anonym