Otevřená záchrana XLI (květen 2018)
Obrovský zápach tohoto místa cítíme dlouho předtím než k němu dojdeme. Protahujeme se dírou v plotě a jdeme k nejbližší hale. Když otevřeme plechová vrata, smrad a těžký vzduch nás skoro až praští do tváře.
Vcházíme dovnitř a propadáme se něčím a kloužeme po něčem, co má být podestýlka, ale je to jen vrstva výkalů a slámy, které jsou jediným životním prostorem vodních ptáků.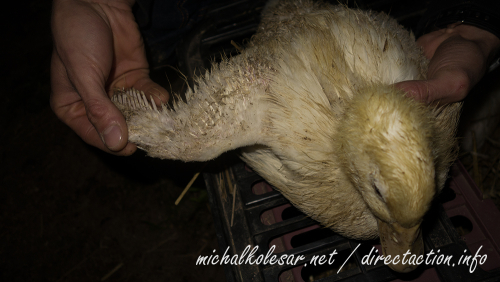 Po kliknutí na fotografii vstoupíš do galerie.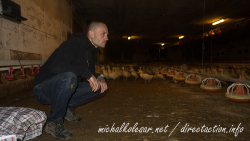 Kachny jsou ještě mladé. Jsou tak špinavé a mazlavé, že mi kloužou v rukách. Pět jich chytám a dávám do tašky. Lukáš klečí v hovnech a dívá se kolem sebe.
Je to jen pár minut a odcházíme.
V autě přeskládáme kachny do přepravky a jedeme domů. Jsou tak malé. Za pár hodin se budou koupat v čerstvé vodě a procházet se v trávě. Ochutnají déšť a čerstvý vzduch.