Otevřená záchrana XXXV (říjen 2017) & Support Lucy a Ethel
Déšť a bláto. Vysadil jsem Lukáše a našeho anonymního přítele kousek u drůbežárny a jel zaparkovat asi tři kilometry na vhodné místo. Potom jsem šel za nimi.
Anonymní přítel zůstal na hlídce a my jsme šli pro slepice. Co mám napsat? Je to pořád stejné.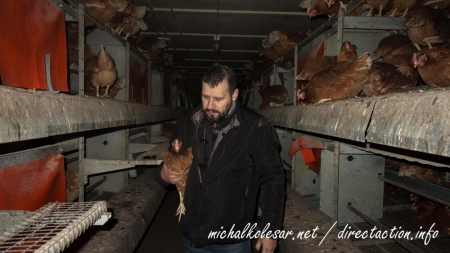 Po kliknutí na fotografii vstoupíš do galerie.
Vzali jsme jich 24. Lukáš drží tašky, já je dávám dovnitř. V autě je potom přeskládáme do přepravek a rozvezeme do nových domovů.
Díky Vám všem, kteří jste jim ty nové, bezpečné domovy dali.
Support Lucy a Ethel
Lucy a Ethel jsou dvě selata zachráněná z jedné farmy v Utahu aktivisty DxE. Mrzáci z FBI se rozhodli selata najít a vrátit do pekla, protože tam podle nich patří.
Přepadávají útulky, obtěžují zvířata a selatům, která najdou, řežou uši, aby mohli podle DNA zjistit, jestli to není Lucy nebo Ethel.
Přečtěte si jejich příběh..