Otevřená záchrana XXXI (duben 2017) & Support Joseph Buddenberg a Nicole Kissane
Na Velikonoce jsme se vypravili pro pár oškubaných holek. Anonymní kamarádka zalehla do trávy na dohled od vrátnice drůbežárny a hlídala hlídače. S Lukášem jsem šli do areálu. Před jednou halou leželo několik mrtvých slepic. Lukáš zůstal venku před halou a já šel dovnitř. Ticho a prázdno. Zřejmě je před svátky odvezli na jatka. Minuli jsme se o dva, možná tři dny.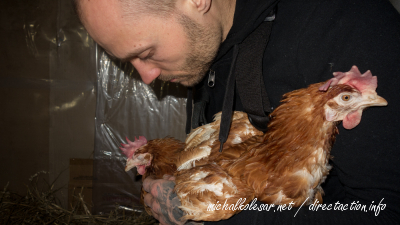 Po kliknutí na fotografii vstoupíš do galerie.
Za ty roky už vím, jak takové vyskladnění probíhá. Přijedou transporty, sjedou se brigádníci a slepice se sbírají do přepravek. Lámou se křídla a nohy, ale to nic, jsou to jen slepice a stejně jdou pod kudlu.
Procházel jsem uličkou mezi klecemi a prohlížel je. Většinou neposbírají všechny slepice. Nějaké zůstanou. Jen už bez vody a krmení.
Našel jsem je. Krčily se na sebe namačkané v rohu jedné klece. Přežily tvrdý sběr na jatka, zůstaly odsouzené na smrt v hale bez vody a krmení a teď přežijí i tohle.
Když jsem je vytahoval ven, zděšeně křičely. Uklidňoval jsem je, že už bude dobře, ať vydrží. Jdeme domů.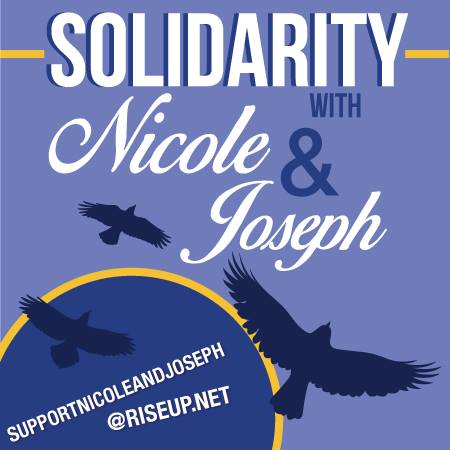 Support Joseph Buddenberg a Nicole Kissane

Joseph Buddenberg a Nicole Kissane byli v roce 2016 odsouzeni za vypuštění několika tisíc zvířat z kožešinových farem a způsobení dalších škod podnikům spojeným z kožešinovým průmyslem. Joseph vyfasoval dva roky a Nicole 21 měsíců.