Otevřená záchrana XXX (říjen 2016) & Support Lukáš Borlík
Je nám zima, jsme unavení a prší. Nemůžeme chytit spojení s jednou hlídkou. Ve vysílačce slyšíme jenom chrčení. Skoro půl hodiny ztrácíme řešením situace.
Když je všechno v pořádku a slyšíme všechny hlídky, jdeme s Lukášem Krásou přes plot a k potom k jedné z hal. Jdeme klidně a rychle.
V téhle hale jsme byli před pár měsíci. Jsou to stejné slepice jako tehdy. Jen je jich méně, více křičí a mají méně peří.
Můžeme vzít šest. Pro víc jich nemáme místo. Pár fotek. Bez úsměvu.
Jdeme domů.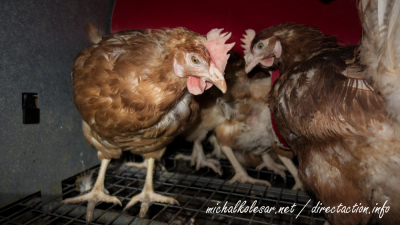 Po kliknutí na fotografii vstoupíš do galerie.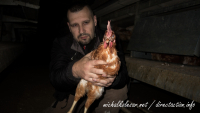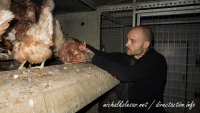 ……………………………………………………………………………………………………………………………..
Support Lukáš Borl
S Borlíkem jsem se poprvé potkal asi před 15ti lety (berte to jako odhad člověka, který příliš nevnímá čas). Pořádal v Mostě festival a součástí byla moje přednáška a promítání nějakých investigací.
Od té doby mě občas někam pozval a já občas pozvání přijal.
Když jsem začal s otevřenými záchranami, říkal mi, že už chystá pomeranče, které mi bude nosit do kriminálu. A zatímco já si tady po světě dál smutně šlapu, Borlík je za mřížemi a fízlové z něj dělají teroristu.
Hodně síly a hodně štěstí Borlíku.
Lukáš Borl 1.3.1982
Vazební věznice Litoměřice
Veitova 1
412 81 Litoměřice
Číslo účtu: 6015-20632881/0710, VS: 820301/2763