Otevřená záchrana XXVII (květen 2016) & Support Martin Ignačák
Část záchranného týmu vysazujeme z auta v blízkosti objektu. S taškami a nářadím odcházejí do tmy.
S kamarádkou jedu zaparkovat asi tři kilometry. Potom se pomalu vracíme k místu, kde na nás čekají ostatní. Dva lidé na noční procházce, ruku v ruce jako milenecký pár, jsou méně nápadní než čtyři nebo pět.
Hlídky jdou na svá místa, a když se ohlásí, přelézáme plot.
Před jednou halou leží na betonu několik mrtvých slepic. Obcházíme je a jdeme dovnitř.
Slepičí křik, smrad, prach, dusno a peří. Zmrzačené životy. Humanita v praxi.
Pár fotek a odcházíme. S námi osm slepic.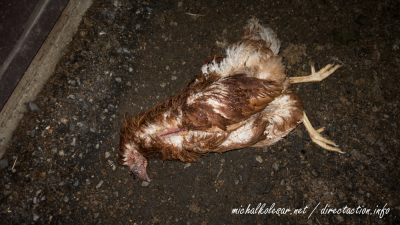 Po kliknutí na fotografii vstoupíš do galerie.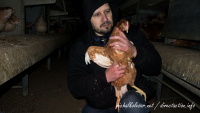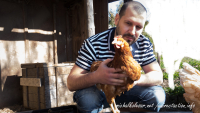 AntiFénix

Zatím mi to připadá, že fízlové znásilnili bájného ptáka Fénixe, naplánovali teroristický útok, svedli vinu na jiné a ještě chtějí pochválit.
Martin Ignačák sedí 13 měsíců ve vazbě. 27. 5. 2016 zahájil hladovku. O dva dny později se k němu připojila sestra Pavla.
Přejeme Martinovi, jeho sestře, ostatním obviněným i jejich blízkým hodně síly a hodně štěstí.
(Michal Kolesár)
Pár vět od anonymního člena týmu
Při každém dalším vniknutí za zvířaty mě doprovází myšlenka, že jsem na správné cestě. Ničeho nelituji.
Dnes probíhá všechno hladce a daří se nám to hlavní, proč jsme tady. Zachránit několik nevinných životů.
Zároveň bych chtěl vyjádřit velkou podporu pro Martina I., který zahájil hladovku. Že si stál za svým, co se veganské stravy týče a zároveň se snaží udržet jasnou mysl.