Wild and Free a Fuckcopyright
Krátké info o dvou projektech, které podporuji.
Wild and Free
Mě nejbližší kolektiv, pokud jde o SR i ČR. (realita.tv nepočítám

)
Sme dobrovoľným kolektívom, ktorého snahou je aktívne zapájať sa do boja za záchranu Zeme a všetkého života. Hľadáme cesty k prirodzenejšiemu a slobodnejšiemu spôsobu života.
Medzi naše hlavné aktivity patrí šírenie informácií, vydávanie a distribuovanie samizdatových materiálov, vytvárame priestor pre vzájomnú komunikáciu, organizujeme lokálne akcie, diskutujeme a hľadáme odpovede na otázky okolo nás.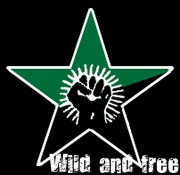 Fuckcopyright
Knihy, audio, video. Obsáhlé a často aktualizované.